Calibrations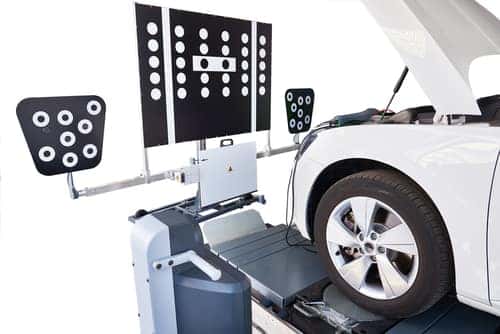 What is ADAS?
Learn what ADAS is, and what ADAS Calibration means on your Auto Body Repair Estimate
Have you ever looked at your auto body shop estimate, seen "ADAS Calibration", and wondered what that means? Here at Bill Penney, we want to inform our customers about specific repair procedures and how they affect an estimate. This way you can have a better understanding of why certain types of car repair are vital, help you compare estimates, and feel confident that we're doing all we can to get your vehicle back in shape. We're here to explain what ADAS is and what it means on your auto body repair estimate.
What Is ADAS?
ADAS stands for Advanced Driver Assistance Systems. These are the latest technologies built into your car to enhance driver safety, and nearly every new vehicle sold in the United States has some form of ADAS as standard equipment. Most of the ADAS systems are designed to correct driver error through a complex system of cameras, radar, sensors, and onboard computers. They are intended to enhance your ability to drive error-free, or to fully take over in the event of driver inattention. Some common ADAS systems include:
Blindspot detection
Forward collision warning
Lane departure warning
Adaptive cruise control
Emergency braking
These systems are made up of a network of sensors, the most common of which are ultrasonic, camera, and radar. These sensors are necessary for the ADAS safety features to "see" what's happening and view surroundings as you drive. Overall, they provide you with digital assistance to correct poor driving behaviors and physical human limitations.
What Is ADAS Calibration?
Any time the position of ADAS cameras or sensors are altered, they will need to undergo calibration. Calibration is a process that correctly aligns the cameras and sensors of a car so that its ADAS system can work as intended. If these systems are even slightly out of alignment, they will be less accurate, and thus less likely to keep you safe while driving. That is why it is crucial to schedule your vehicle for ADAS calibration when needed. The alignments are performed by highly trained technicians who use specialized equipment and tools to adjust or reset these systems. Only the best auto body shops have highly trained technicians capable of accurately performing an ADAS calibration with the specialized tools and equipment, and Bill Penney Collision Center is one of them.
When is an ADAS Calibration Needed?
An ADAS Calibration is necessary whenever any of the sensors on a vehicle are disrupted in any way. This can be from a fender bender, collision, or various service repairs. These repairs can include wheel alignment, windshield replacement, suspension repairs, change in tire size, and car roof repair.
Calibration is also necessary whenever a sensor or its mounting bracket is repaired in any way or when the front airbag deploys, deflecting off the front windshield. Lastly, ADAS calibration will be needed when there is a related Diagnostic Trouble Code in the car's computer memory or following any technical repair procedures laid out by a manufacturer.
Does Bill Penney Offer ADAS Calibration?
Here at the Bill Penney Collision Center, we know that an ADAS calibration means much more than making sure all the sensors in your vehicle are installed. It takes skill, the right equipment, and specialized knowledge to perform an ADAS calibration.
Our team of highly trained technicians knows the importance of these advanced repairs, which is why we never cut corners in the repair process. We use the latest tools and equipment when performing an ADAS calibration, ensuring everything is properly calibrated before returning it to you. We care about your safety and want you to get the best care out there for your car.
We will work with you and your insurance company to ensure a stress-free repair and are committed to providing our customers with fast and convenient services.
Visit our collision center near the Madison area in Huntsville, AL today or feel free to give us a call at (256) 562-0164.
We look forward to hearing from you!